Klassik Lounge Werk 12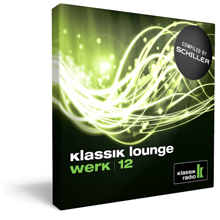 Tracklist:
Disc 1
Amethystium - Ethereal
Bliss - Bascar Azad
Bright Light Bright Light - In Your Care (Solo Piano Version)
Mindtrap - Train From Paris
Revtone - Love Movement (Ulrich Schnauss Remix)
Trifonic - Lies
Ryan Farish - Allure
Between Interval - The Tides Of Time
Sister Crayon - Cynic
Tycho - Awake
Marsen Jules - Once In A Moment
Schiller feat. Hélène Grimaud - Gymnopédie no. 1
Disc 2
Schiller - Berlin-Moskau
Asura - Five Lines
Processory - Recovery Measures
Beacon - Into The Night
Carbon Based Lifeforms - Interloper
Bright Light Bright Light & Elton John - I Wish We Were Leaving
John Murphy - Sunshine (Adagio in D Minor)
Sin Cos Tan - Trust
Processory - Trickle Down
Casa Del Mirto - The Haste
Sundial Aeon - Iced Melancholy Spectacle
WhoMadeWho - Heads Above
Ulrich Schnauss - Goodbye
Featured track: Between Interval - The Tides of Time
Release date: 2014-08-29
From Klassik Radio's web site:
"Herzlich willkommen in der Welt von Schiller..." heißt es seit Ende 2013 auch bei Klassik Radio. Schiller - das ist einer der europaweit erfolgreichsten Elektronik-Künstler. Schiller entführt Hörerinnen und Hörer von Klassik Radio jeden Samstag ab 22 Uhr in seine sphärischen Klangwelten. Neben den eigenen preisgekrönten Werken präsentiert Schiller exklusiv in der Klassik Lounge auch Musik aus seiner ganz persönlichen Schatztruhe: Faszinierende Sounds, die bewegen. Verträumt, feinfühlig und immer entspannend. Exklusiv für die erfolgreiche CD-Reihe der Klassik Lounge hat Schiller alias Christopher von Deylen "Werk 12" zusammengestellt. Lassen Sie sich entführen in die neue Klassik Lounge und in die Welt von Schiller. "Ich freue mich sehr über dieses neue Projekt. Das Leben ist eine Reise, und es ist mir ein großes Vergnügen, Sie mit diesem Album in meine Klangwelten einzuladen."
Where to get this CD:
Klassik Radio shop
Saturn.de
Amazon.de
Reviews & comments
No reviews yet...