Between Interval - Legacy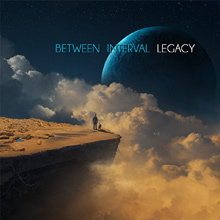 Tracklist:
Tracklist CD/digital
The Tunnel
On Track
Accelerant **
The Hour Appointed *
Septimal Laws **
Fields of Neptune
The Outer Shell
Gravity Core
Inner Guidance
Closing In *
* Bonus track (not on vinyl version)
** Track extended for CD & digital version
Tracklist vinyl/LP
The Tunnel
On Track
Accelerant
Septimal Laws
Fields of Neptune
The Outer Shell
Gravity Core
Inner Guidance
CD/digital/download album and limited edition colored vinyl,
Spotted Peccary Music
Release date: April 7, 2017

Breaking 8 years of silence, LEGACY is the result of several years of accumulated inpiration. It is a genre-crossing atmospheric ambient sci-fi journey, perhaps best described as an electronic melting pot containing and combining elements of electronica, chill out, dub techno, space music and Berlin school.
The cover artwork for LEGACY is designed and produced by acclaimed artist
Michal Karcz
, further enhancing the musical experience. LEGACY was released on CD and digital/download/streaming on April 7, 2017. About one month later it was followed by a limited edition vinyl/LP - the first Between Interval release ever on this format. The vinyl is limited to 500 copies and it's pressed in a beautiful semi-transparent color.
"...the overarching theme of LEGACY is one of exploration; discovering what lies beyond the next horizon or boundary, facing the next challenge. The human desire to push farther and keep exploring is the legacy of mankind, and whether reaching for the stars, or diving ever inward, it resides deep within each individual, propelling the voyage through a space called home."
Where to get this album:
Spotted Peccary Music webshop
(all formats)
Amazon US
Amazon UK
Between Interval official web site
Reviews & comments
This is space music, pure and simple. Damn fine space music too.
Steve Mecca,
Chain D.L.K.
I was always considering Stefan Strand as a Swedish wunderkind. [...] "Legacy" is another milestone by Between Interval and one of the undeniable aural vertexes of 2017!
Richard Gürtler,
Ambient Visions
...the very well-produced and mastered "Legacy" feels like a lush journey airing various levels of energy as it paints a new set of cinematic-angled sketches.
Bert Strolenberg,
Sonic Immersion
Stefan Strand returns in a very great shape after a silence of very close to 8 years
Sylvain Lupari,
Synth&Sequences
Impeccably crafted, Legacy deftly segues between related ambient sub-genres, among them electronica, spacemusic, soundscaping, and even dub-techno.
Textura
Legacy comes after eight years of silence and marks a highlight point in Between Interval's career. Years of experience and a lot of hard work have culminated with what feels like his best work to date. He is known for his spacey sound but Legacy takes things to a deeper level in terms of musicality and sound design.
Nocturnal Ghost,
Igloo Magazine